Bolonsky Nature Reserve.
Duration: 3 days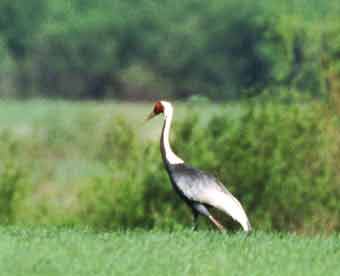 Bolonsky Reserve was established in November 1997 at the place of the regional Simminsky zakaznik located in the North -Eastern part of the Middle-Amur cavity. The Reserve includes lower part of the Simmi and Selgon river basins, shallow delta of lakes Kiltasin and Albite, and the Yorsuyn Island. The Reserve is situated at the delta of the Kharpi river and southern shore of Bolon Lake on the territory of Amursky and Nanaisky districts of Khabarovsky territory. The square of the reserve is 103,6 thousand hectares.
The core of the Reserve is Bolon Lake, located in the center of the Amur River valley's wetlands. Bolon lake is of high biological and geographical importance: the concentration of wetlands here is very high, biological diversity is very wide. Bolon Lake is a unique place where ways of migrating birds cross. According to Ramsar Convention Bolon Lake is included in the List of Wetlands of International importance. In addition, Bolon lake is critically important as nesting area for rare and endangered bird species.
Bending the rivers Simmi and Kharpi flow into the lake. Far-flung rivers with numerous adjacent reservoirs and lake shore create a big wetland habitat for waterfowls. That is why this region is featured for high concentration of birds and nestlings.
Animal diversity is also rich. There are summer habitats of elk, roe deer, and brown bear. In spring they migrate into the Reserve from Ghaki Unahta Yakbyyana mountain range. Asian black bear, squirrel, wild boar, badger and red deer occur here as well as American mink and muskrat.
Bolon Lake and its emptying rivers are very important spawning areas for many fish species. The fish come here for spawning from the Amur River.
Bolonsky Reserve is featured for great number of bird species and amount of individual birds of each species. In spring and in fall one can see thousands of swans, geese, ducks, cranes, different birds of prey and small sized migrating birds. Mainly, waterfowl live in local wetlands. Nearly all migrating bird species of Priamurye and Russian Far East can be found here. The bird list of the Reserve includes 250 species, 160 of them nest here.
The number of rare bird species is 24, together with migrating species the number will exceed 35. Such a concentration of rare birds is the largest in the region. In addition, several endangered species nest here: Oriental White Stork, Japanese and Hooded Cranes, Mandarin duck, osprey, peregrine falcon, and others.
The Reserve is interesting for Russian and foreign ecologists, ornithologists, tourists and students interested in studying wetlands birds.

PROGRAM
show map Bolonsky Nature Reserve (121K)