Yacht tour along the Amur river.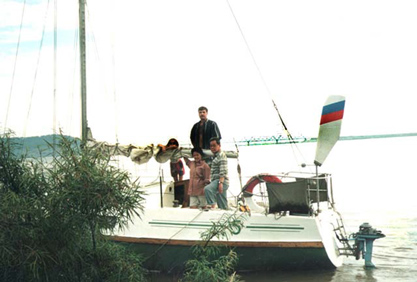 We offer you a tour by yacht along the great Amur river to see the nature of the Far East, to see various landscapes, rivers and lakes.

One-day stroll along the Amur by yacht (duration 3-5 hours) + Dinner - picnic.

You will see the panorama of the Amur river near Komsomolsk, former railway ferry, large bridge across the Amur, sandy islands, and beaches.

You will have an opportunity to fish, to estimate the taste of fresh meat and fish cooked with vegetables.

River Yacht cruises.
We can meet you in Khabarovsk and then go to Komsomolsk by yacht. During the cruise you'll visit the traditional nanai's settlements and see the drawings of the ancient people as well as go fishing.




Visit of the Komsomolsk State Nature Reserve by yacht (2 or 3 days).
Komsomolsk- Nickolaevsk travelling (duration 8 days).
You will see the life of the Amur region's people : the woodcutters, fishermen, and workers of gold industry. You will have a rest on deserted sandy beaches, go fishing and enjoy boundless panoramas.
Komsomolsk- Nickolaevsk- Shantar islands (duration 20 days).
In summer - from July to August the way to Shantar Archipelago (located in western part of the Okhotsk sea) has no ice. Shantar islands are severe and deserted, they look like a real museum of wild nature. You will see magnificent waterfalls, "bird's bazaars", the Pacific whales, "beaches" of seals and walruses, and huge schools of salmons.